Our Vision
HWPL is committed to practical approach to world peace through the establishment of international peace initiatives in legal, social and religious aspects.
"As people who share this earth together, the duty appointed to us is to preserve the natural principles and right of mankind. As we have seen from the past memories of our forefathers, to ensure that our future generations do not enter such periods of darkness depends on how active we remain to protect what is right and just for humanity."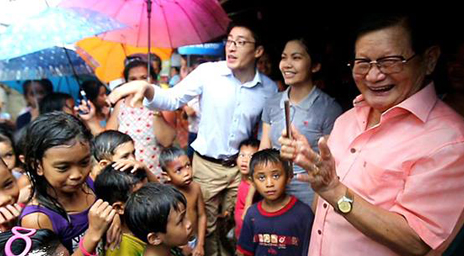 HWPL is committed to the cessation of war through the establishment of an enforceable law compatible with the *Declaration of Peace and Cessation of War (DPCW) and *the World Alliance of Religions' Peace (WARP) offices. Women and youth involved with HWPL's peace initiatives play a significant role in peace building and conflict resolution in their respective communities as active proponents of peace.
HWPL shares this vision with global citizens through the International Women's Peace Group (IWPG) and International Peace Youth Group (IPYG). IWPG and IPYG work together as the two wings of HWPL for sustainable development of peace. When our vision is fully achieved, wars will no longer have a place on our Earth and a culture of peace will finally spread to all corners of the globe.
*Declaration of Peace and Cessation of War (DPCW), proclaimed on 14 March 2016, was drafted by the HWPL International Law Peace Committee. DPCW is unique in that it includes provisions aimed at resolving conflicts, especially those attributed to religious causes, through peaceful means and also invites youth, women, and all citizens to participate in the active promotion of a lasting culture of peace.
*The World Alliance of Religions' Peace (WARP) Office Meetings, are HWPL's worldwide peace dialogue series in interfaith relations and scriptural texts. It aims to bring forth peace through gaining a deeper understanding of the standards and teachings of each religion and the concept of peace spoken about in each scripture.
Our Creed
1. We honor the will of Heaven and teach according to it.
2. Our purpose is world peace and the end of war.
3. We are a family that transcends all boundaries, cultures, and religions.
4. We unite women's and youth organizations of every nation around the world.
5. We work to fulfill what was proclaimed on 25 May, 2013 in the Declaration of World Peace.
6. We transmit our message to the people of the global village through press reports.