Grand Peace Festival Caught Eyes of Media
Peace Initiative: Law for Peace
Peace Project: Raising Awareness
Publish Date:
14th October, 2016
International Media Coverage on the Peace Initiative of HWPL in the WARP Summit 2016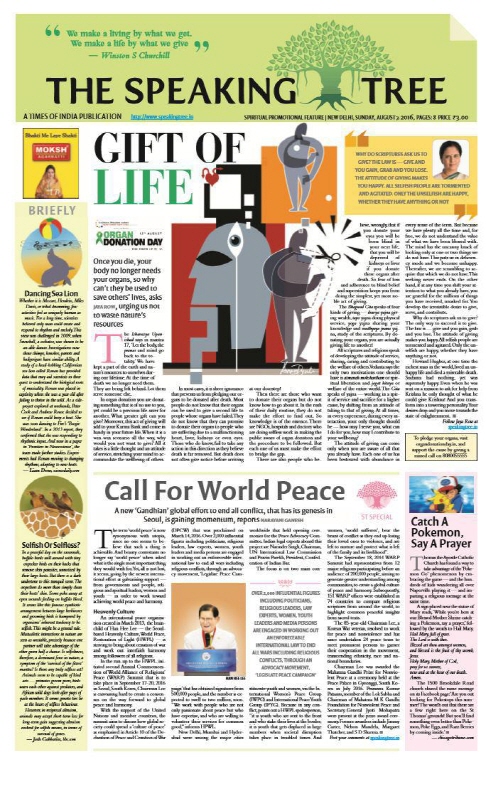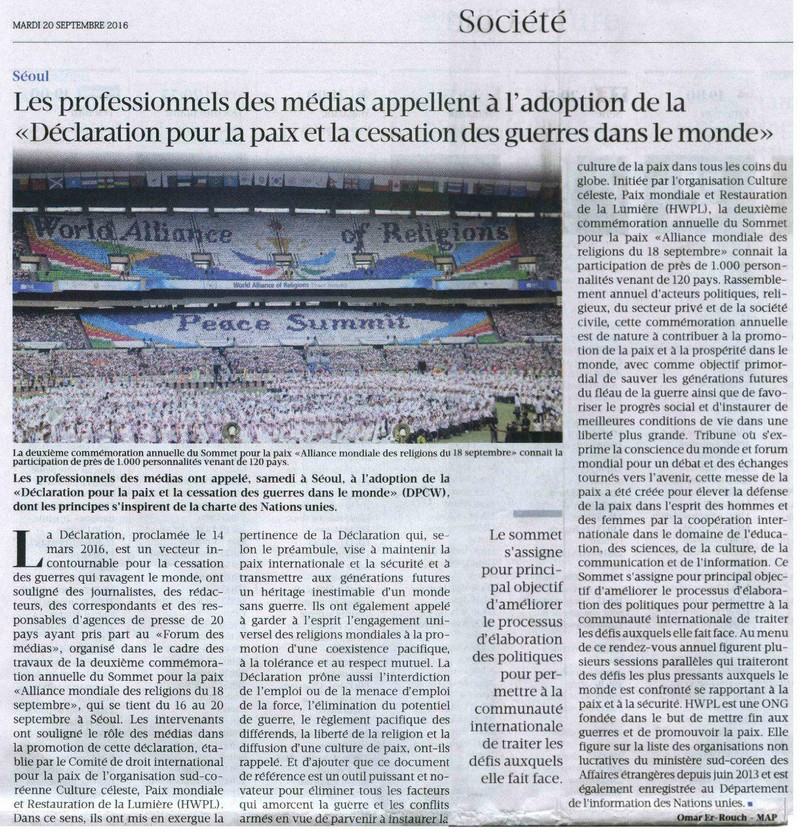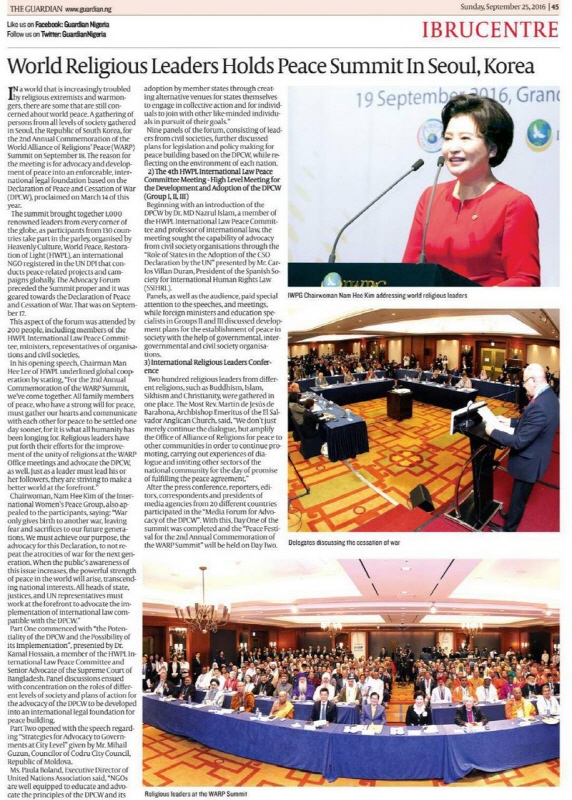 Journalists and reporters around the globe payed special attention to the movement of peace from the Korean Peninsula where a global-scale war devastated the region and international support sought the vision of restoration of human dignity and wealth of nations.
The 2nd Annual Commemoration of the September 18th WARP Summit by the HWPL was a pioneering event where global leaders devised action plans for peace-building processes based on the Declaration of Peace and Cessation of War (DPCW).
Through various headlines, front pages, televisions and radio channels, the international press and media delivered messages of peace from important moments of debates on re-building our world with the value of peace as an everlasting legacy for our future generations.
The Guardian, one of the renowned newspapers in Nigeria, carried a special report on sessions of the summit, highlighting the discussion on advocacy plans of the DPCW in the international community through the international cooperation and civic participation, the center of peace-building processes of the HWPL.
The Speaking Tree, the Indian spiritual networking website, covered the news of the three-day summit on the front page. Its special focus on Chairman Lee of HWPL in light of his dedication to global peace movement through the establishment of international legal foundation and religious harmony. "A new Gandhian global effort to end all conflict, that has its genesis in Seoul, is gaining momentum", it said.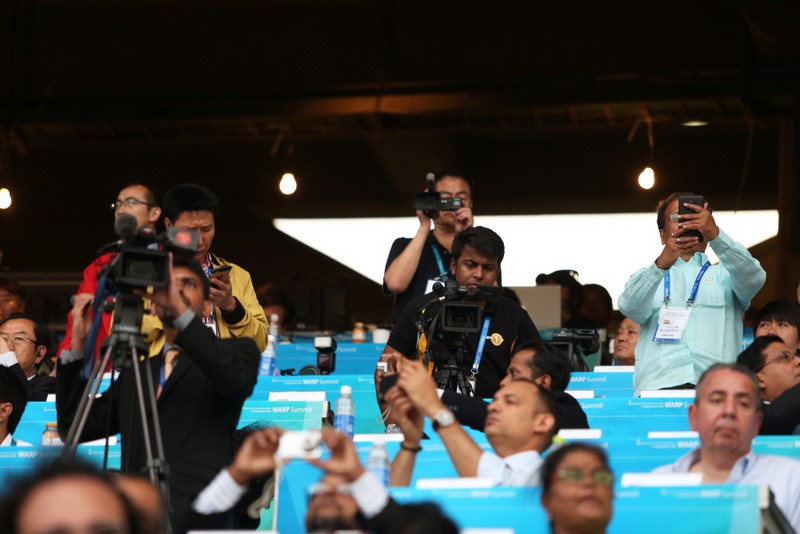 Le Matin, a prestigious newspaper in Morocco, highlighted the second day of the Summit, demonstrating the Card Section Performance by 12,000 IPYG members. Its news channel on TV also broadcasted the event.
In Bangladesh,Bangla News presented a quick overview of the summit with a particular interest in peace initiatives offered by Chairman Lee's strong, inspirational appeal to 1,000 leaders from 120 countries who participated in the summit.
Sri Lanka Rupavahini Corporation, a national television network of Sri Lanka, reported that the global efforts of and commitment to international law for peace have been underway through this summit. It also added Chairman Lee's remark - "This (Declaration of Peace and Cessation of War) can be presented to the United Nations, when world leaders come together and support by signing it."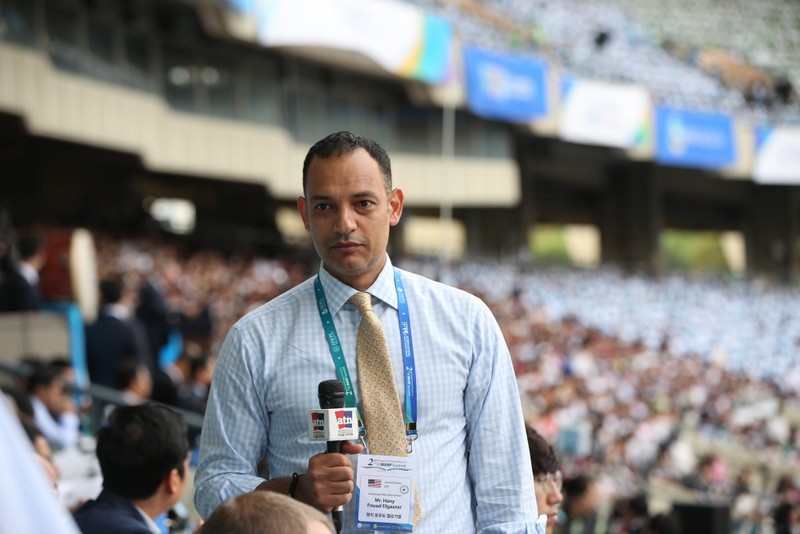 PTV news of the Pakistan National Broadcasting Station, with 98 million viewers, paid close attention to the Grand Peace Festival of Day Two, extolling spreading the spirit and culture of peace through the many performances by HWPL, IPYG and IWPG.
In total, over 211 media stations from 45 different countries have covered this year's summit. HWPL sincerely appreciates all reporters and stations that spread the news of peace to every corner of the world. As such news reaches more people and encourages their participation, peace shall come sooner.