Unveiling Ceremony for the Monument to the Declaration of World Peace in Sultan Kudarat, Mindanao, Philippines.
Peace Initiative: Alliance of Religions
Peace Project: Raising Awareness
Publish Date:
30th January, 2016
Philippines - Chairman Al Haj Murad Ebrahim, Chairman Man Hee Lee of HWPL and Chairwoman Nam Hee Kim of IWPG are celebrating the Monument to the Declaration of World Peace in Sultan Kudarat, Philippines.
On 24 January 2016, Moro Islamic Liberation Front (MILF) held an unveiling ceremony for the Monument to the Declaration of World Peace located in Sultan Kudarat, Maguindanao Province. This monument is the second HWPL Peace Monument to be erected in the Philippines. To commemorate the historical Mindanao Peace Agreement mediated by Chairman Lee of HWPL, Chairman Al Haj Murad Ebrahim of MILF also decided to designate January 24th of every year as 'HWPL Day'.
Over 10,000 people from communities in Sultan Kudarat participated in the ceremony. Political stability, economic development, and sustainable development are some of the projects being carried out by these communities in conjunction with HWPL. HWPL has been leading peace discussions with MILF representatives, Muslims, and Catholic communities as well as the government of the Philippines.
Over 10,000 Sultan Kudarat citizens to participate in the unveiling ceremony of the monument and eargerly take photos and videos.
Efforts to bring peace in Mindanao could be sustained only by many individuals dedicated to ensure safety and prosperity in the region. Particularly, Hon. Esmael "Toto" G. Mangudadatu, Governor of Maguindanao Province, Mindanao and Hon. Al haj Murad Ebrahim, Chairman of MILF became active members of the Advisory Council and partners of HWPL in support of HWPL's peace initiatives.
HWPL's peace initiative is solely oriented by the spirit of peace itself without risking the lives of people. The approach for peace in Mindanao was to reconcile and restore harmony among its citizens of different religions and ideologies through holding candid dialogue and peace walk.
Before the unveiling ceremony, MILF Chairman presented an appreciation plaque to Chairman Lee for his dedication of bringing peace to Mindanao, marking the 7th visit. HWPL's peace activity will serve as a catalyst to spread the message of peace to the Davao and General Santos region, transforming the island of conflict into the island of peace.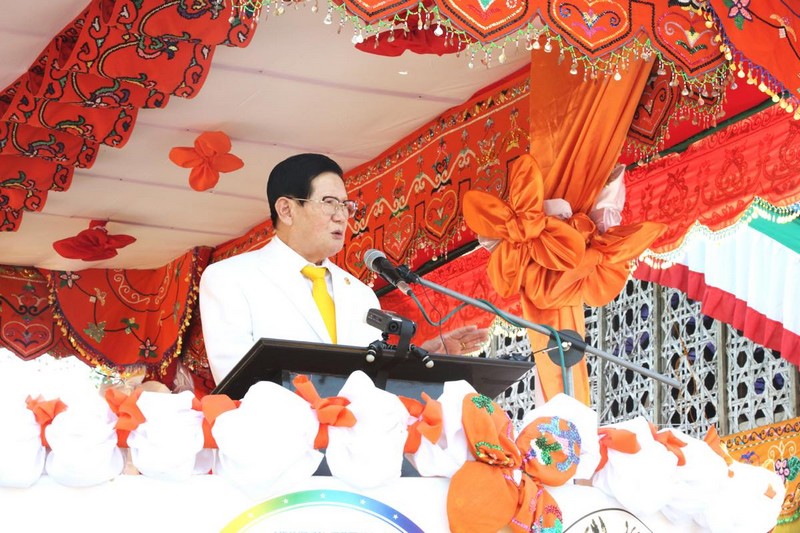 Keynote Messages delivered by Chairman Ebrahim and Chairman Lee are both inscribed on the Monument along with the Declaration of World Peace:
"This monument has been built on this hallowed ground to honor the people of the Bangsamoro who struggled for justice so that all the communities of Mindanao and Sulu – Muslim, Christian, and Lumad – will live in peace.

Furthermore, this monument stands as a testament of support by the people of the Bangsamoro for the 'International Law (Convention) of World Peace' to be advocated in the United Nations by the Heavenly Culture, World Peace, and Restoration of Light (HWPL)"

led by Chairman Man-Hee Lee of South Korea.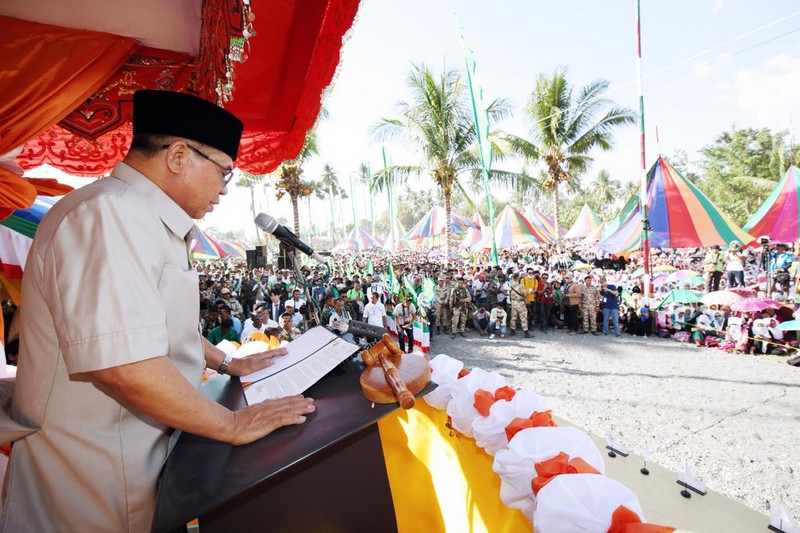 Hon. Al haj Murad Ebrahim, Chairman of MILF is delivering his speech on the significance of the monument.
"Today, where people are suffering from wars and conflicts, all leaders of diverse sectors including politics and religions, are taking part in the peace movements of HWPL by implementing an international law on cessation of wars and world peace, and establishing the HWPL World Alliance of Religions' Peace (WARP) Office, as a follow-up on the pledges they made before God and all people.

Peace is not a matter confined to a single person but to every individual. Therefore anyone who is part of this global family must all become messengers of peace. Let us all participate and become the messengers of peace to pass on peace as an eternal legacy for the future generations!"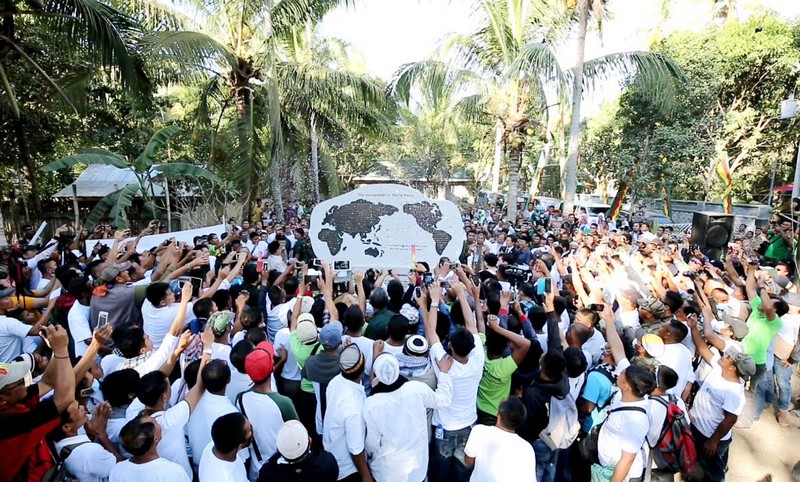 Mr. Man Hee Lee, Chairman of HWPL is delivering a speech, urging all citizens to become active peace messengers.
15,000 soldiers and civilians in Sultan Kadarat are strongly in support of putting an end to all conflicts in Mindanao and are determined to continue collaborating with HWPL. Constructing a peace monument in Sultan Kudarat signifies the big leap towards transforming armed weapons into daily instruments, an action that symbolizes peace as a feasible goal.
People in Sultan Kudarat, after enduring through many conflicts, were desperately searching for peace, but now the region serves as a role model for bringing peace into conflicted areas. What took place in Sultan Kudarat will continue to cause great ripple effects around the world so that, one day, war and armed conflicts may be remnants of the past.
The Mindanao Peace Agreement, led by HWPL, was signed on January 24, 2014 between Catholic and Muslim leaders of Mindanao.
*A Short Background on the Mindanao Peace Agreement
Located in the southernmost area of the Philippine islands with over 20 million people and a rich history, Mindanao has been a land of blood-shed for the last four centuries, caused by wars and conflicts.
On 24 January 2014, as a third-party facilitator, HWPL contributed to peacebuilding in the province of Maguindanao, Mindanao. Chairman Lee of HWPL played a decisive role in signing the 'Mindanao Peace Agreement' between Catholic and Muslim representatives. The agreement provided an opportunity to raise the voice for peace by the local citizens of Mindanao and strengthened the peace process to put an end to any further armed conflicts in the regions of Mindanao and beyond.