Nigeria, 2nd Annual Commemoration of the Declaration of World Peace Walk Festival
Peace Initiative: Youth and Women Activism
Peace Project: Peace Walk
Publish Date:
26th May, 2015
Nigeria participated in the move of the peace walk
(Let's step into peace Wi-Fi zone!)
On May 25th, the peace walk in the commemoration of the 2nd Year Anniversary on the Declaration of World Peace thait 200,000 youths from all around the world participated in finished with good success. Riding an wave of the world peace, On June 2nd, in Ehime Mbano, Nigeria participated in this movement with 3 Youth group.
This peace walk event led by International Peace Youth Group (IPYG) , Heavenly Culture, World Peace, Restoration of Light (HWPL)'s affiliated organizations held in Comprehensive Secondary School in Ehime Mbano, Nigeria. In this walk festival, the students of People to People International Nigeria Chapter, Partners for Peace in the Niger Delta Imo State Chapter and Christian Fellowship and Care Foundation joined. Furthermore, 396 youth representatives gathered as well.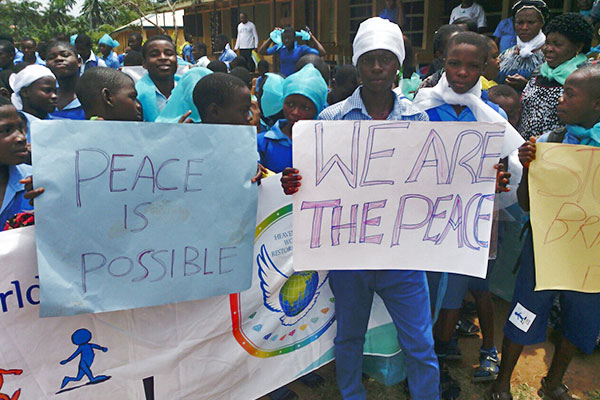 One of the persons concerned Heavenly Culture, World Peace, Restoration of Light (HWPL) stated the purpose of this event. "After the declaration of world peace, it get results of world peace. Through this event, we are going meditate on the meaning of the declaration of world peace with 200,000 members of the 17 countries, and send our earnest feeling of the every youth in the world."
This event started by speech of Ohaegbu Augustina, school principal, and there followed a speech youth leader Nwordu Darlington and Jane Ijeoma Onwuka, religious leader Evangelist Albert M. Ezeigwe, and Community representative Hon. Elias Nwaohiri. After this, there were watching the video of the 2nd annual commemoration of the declaration of world peace.
The participants were very excited. It was a turning moment for them especially during the wave peace session and the peace walk session. The principle requested that the program should continued and be replicated to other schools and areas. They also appointed three students as peace advocates for their commitment to build peace and spread the messages of peace. The school commented that the peace walk was timely given that the youths of now have grown more violence than ever. They requested for us to continue the program and start school peace clubs in the schools.
After the chairman Lee of the HWPL proclaimed the Declaration of World Peace on May 25th 2013, in front of youths from all around the world, he has been appealing to former and present president and religious leaders about the cessation of the war and the world peace. Due to his efforts of a decisive role of the cessation of the 40 years' war in Mindanao, he was given a lot of letter of appreciation and Certificate of Merit.